Even though many traditional aspects of doing business are experiencing upheaval as industries gravitate towards the digital marketplace, the underlying principle of marketing remains the same: foster a unique connection with your target audience. Nowadays there are just many more places to share your message and meet new customers, and that's where the new marketing landscape starts to get rocky.
Keep in mind that social media is to digital branding and advertising what relationships and referrals were to businesses in the past. When used strategically, these online networks have the potential to be even more effective in reaching consumers and more powerful in driving sales as compared to traditional advertising.
Keep Your Old Friends While Making New Ones
Social media is all about connecting with the people you already know – plus those who you want to know. The key to having a successful social media branding campaign, then, is fostering social engagement. This is achieved by clarifying your marketing message and delivering it to a larger audience through videos, comments, and other multimedia formats.
By giving you a new space to develop personal relationships with customers, social media networks empower you to directly share your message with others. They allow you to continue the conversation that started while you were behind the counter – not the next time your customers stop by, but as soon as they are back in the comfort of home. This one-on-one connection can increase your electronic sales and brand awareness.
Become a Trendsetter
While making your first Facebook profile is a good social media start, following trends is the key to an effective online marketing campaign. Experts predict that in 2014 Twitter will take the lead, the popularity of Google+ will grow, visual content will be critical for marketing success, micro videos will replace longer clips in effectiveness, and user-generated content (e.g., customer photographs, blogs, and reviews and ratings) will become more important in increasing brand awareness and brand name visibility.
Speaking of those users, focus your message on reaching your true fans, not on wooing the big-name bloggers and other top influencers. Research has shown that brand advocates – the everyday people who know and love your products – are whose voices really count.
A good way to know whether or not influencers are following your brand online is to check which sources are driving traffic to your website using Google Analytics. For greater detail, you can see who's mentioning your products and keywords with SocialMention, a tool that compiles data from 80 different social media sites. To look at blogs too, IceRocket runs a similar keyword search with a wider scope.
                                         Source: ConvinceAndConvert.com
Keep the Conversation Going 
The more that people can relate to – and have a personal connection with – the company whose products they are purchasing, the more inclined they are to keep that business-consumer relationship going. Show your customers they are valued by soliciting their feedback and opinions through reviews, polls, and surveys. Allowing them to have their say helps build trust and confidence in your current customers, which is evident to potential consumers, ultimately increasing your visibility and your revenue.
Even if you are receiving responses from fans, how can you know it's enough to call your social media campaign a success? Tracking tools will help you visualize the volume of conversations occurring on social media. For example, Facebook Insights is provided for free to all business page admins. It not only shows you how many interactions your Facebook posts get, but when your page fans are most likely to see them. Similar tools like Pinterest Web Analytics and Tweriod exist for other social networks.
Increase Conversion with Quality Conversation
Social media, like it or not, is here to stay. Facebook, Google+, Pinterest, and Instagram are among the most important tools your company can use to increase its visibility in the electronic marketplace – and to gain and retain customers. If you want to boost web traffic to your site, engage customers and clients, and expand your business exponentially, it's time to dip your toes into social media and test the waters of online interaction.
Now you know where your business needs to be in the world of social media, and you have tools to measure how engaged your audience is. But, what about the bottom line – is all of that talk adding up to sales? Tracking ROI can be difficult because each fan follows a unique path from your social media pages: jumping to your blog, becoming a newsletter subscriber, downloading your app, or heading straight to your store.
To follow all those leads from LinkedIn, Twitter, and more, a tool like Oktopost provides an overview to see which platforms and messages are your biggest earners. After you can assess that – either on your own or with a digital marketing pro – you'll be able to spend your social media time more wisely to further bump up your conversion rate.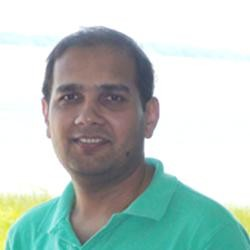 Ujjaval Parikh is the founder of Integration Yantra, a digital marketing expert that specializes in web management and analytics, business communications, and online branding. With a unique background in computer science, finance, and PR, he loves to develop customized solutions to help companies attract clients and promote long-term growth.
https://integrationyantra.com/wp-content/uploads/2020/06/iyantrainc-logo-2.png
0
0
Ujjaval Parikh
https://integrationyantra.com/wp-content/uploads/2020/06/iyantrainc-logo-2.png
Ujjaval Parikh
2014-02-13 17:00:35
2014-02-13 17:00:35
Carry the Conversation Forward with Social Media Campaigns