Whether your brand is well established or just starting out — each and every single one of our solutions focuses on a four-pronged approach. An approach that works in every situation.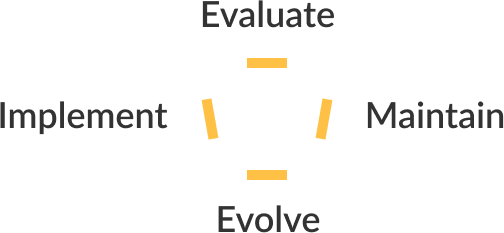 Evaluate
Determine what your goals are. What tools exist today to help you accomplish them? Which ones are absolutely essential? We can build on an existing foundation by accessing your current tools or give birth to something completely new – but we will always start by doing our research and giving you an in-depth plan of attack.
Implement
Once we've set goals with a client, our team will start to turn into a reality. We keep you informed of progress the entire way, making revisions and changes as needed to ensure the project stays on time, on budget, and most importantly: on mission.
Maintain
After the work is done it isn't time for us to cash our cheque – this is where the true work of building a legacy begins. If you'd like us to manage your content for you, we can remain on as a part of your operation. Otherwise, we give you all the information and knowledge that is required to ensure you're all set for future success.
Evolve
As time goes on, the marketplace (and your brand) is going to evolve. We ensure all of our solutions are as 'super-proof' as possible, but we will always be there to check in with your brand's progress and to suggest tweaks or improvements as new rules, new technologies and new opportunities emerge in the marketplace.
Creative Solutions
Every brand needs a voice. What is yours saying? Let us help you tell your brand's story the way it deserves to be told.
Our offerings aren't limited to all-things technical. Our team can help you weave a captivating and convincing story across all of your marketing channels. Whether it's graphic design, creative writing – or managing your on and off site conversations, we will ensure people are hearing the story you want them to hear. Discover Creative Yantras →
Digital Marketing Solutions
Break through the noise and crowd of digital marketing environment to ensure your brand is always relevant and visible.
Marketing has always been a moving target. Digital marketing is no different, except the target is moving at an increasingly faster pace. Getting noticed can be an incredible challenge – but we've got you covered. We can build a campaign from the ground up, or tweak your existing digital advertising campaign to turbocharge your visibility. If your brand needs to stand out – start here. Discover Digital Yantras →
Omni-Channel + eCommerce Solutions
Your customers expect your brand to be everywhere. Are you prepared? Learn how our omnichannel and eCommerce solutions can help.
The secret to a successful online business is about so much more than just having the right products. It's about having a way to sell them as effectively and efficiently as possible. We can build you an entire store from the ground up, or work with your existing inventory management system to streamline your existing operation and help you get back to doing what you do best: being passionate about your products and services. Discover Ecommerce Yantras →